Registration Guide
Regisration needs to be completed in advance in order for participation. Decide your role first before registration. Attendees could choose to register as Author, Presenter, or Listener.
Join the Committee
Join the ICIKM technical program committee to help review papers submitted to ICIKM, your contribution will be highly appreciated. Applicants should send your CV to icikm-sub@iacsitp.com.
WELCOME TO ICIKM 2019
The 2019 8th International Conference on Innovation, Knowledge, and Management will be held in Da Nang, Vietnam during June 24-26, 2019. ICIKM seeks research and practice into work with innovation and knowledge that sparks action, decision making, change, etc. It will mark an important moment for reflection and advancement in the related field.

ICIKM provides a forum for academics, researchers, practitioners, Information Professionals from all over the world for discussion and exchange of ideas concerning theoretical and practical aspects of innovation and Knowledge Management. ICIKM is also the annual meeting of International Journal of Innovation, Management and Technology, so it also provides a platform for the authors and editorial board members of IJIMT for communication and discussion of hot topics within the scope of the journal.
Publications
ICIKM offers the following two options for publication of your full paper: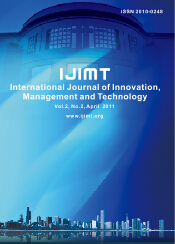 Option 1: Publication in Conference Proceedings. Submissions will be peer reviewed by conference committees, and accepted papers will be published in proceedings, which will be indexed by EI Compendex, Scopus, etc.

Option 2: Publication in Journal. Submissions will be reviewed by the conference committees and journal editorial board, and accepted papers will be published in the International Journal of Innovation, Management and Technology, which will be indexed by Google Scholar, Ulrich's Periodicals Directory, Crossref, ProQuest, etc.

If who're NOT looking to publish their papers, it's acceptable to submit your abstracts to the conference for oral presentation only without publication, which will be sent to at least two techinical committees for a brief review, and it will take about 10 working days.
Conference Tracks
Innovations: Technological Innovation, Product Innovation and Industrial Innovation Financing and commercializing innovation Human resource management issues in innovation Managing collaborative innovation
Knowledge Management:Knowledge Management Processes Data/information extraction and integration Management and Measurement of Intangibles Frequent itemsets and sequential pattern mining Mining and representing temporal and spatial data
Important Date
| | |
| --- | --- |
| Submission Deadline | Before May 10, 2019 |
| Acceptance Notification | Before May 25, 2019 |
| Registration Deadline | Before June 5, 2019 |
| Conference Dates | June 24-26, 2019 |
Latest News
July 3, 2019, Good News! ICIKM 2019 has been successfully held during June 24-26 in Da Nang, Vietnam (Check).
May 17, 2019! Good News! Prof. Mohsen Razzaghi will give a plenary speech entitled 'Mathematical Modeling in Economics, Ecology and the Environment' at the ICIKM 2019. (Check).
April 21, 2019, News! Final call for submission. The submission deadline has been extended to May 10, 2019 (Check)
February 11, 2019, News! The conference venue has been confirmed. ICIKM 2019 will be held at Eden Plaza Danang. (Check)
กก
Read More