Registration Guide
Regisration needs to be completed in advance in order for participation. Decide your role first before registration. Attendees could choose to register as Author, Presenter, or Listener.
Join the Committee
Join the ICIKM technical program committee to help review papers submitted to ICIKM, your contribution will be highly appreciated. Applicants should send your CV to icikm-sub@iacsitp.com.
WELCOME TO ICIKM 2019
2019 8th International Conference on Innovation, Knowledge, and Management (ICIKM 2019) will be held in Da Nang, Vietnam during June 24-26, 2019. It aims to provide a forum for researchers, practitioners, and professionals from both the industry and the academia to share their newest research findings and results. ICIKM is also the annual meeting of IJIMT editorial board, so it also serves to bring authors and editors of IJIMT together to communciate face to face and discuss chances for possible cooperation and future development of IJIMT.
Publications
ICIKM offers the following two options for publication of your full paper: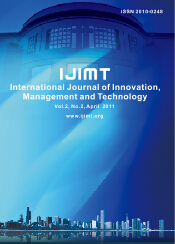 Option 1: Publication in Conference Proceedings. Submissions will be peer reviewed by conference committees, and accepted papers will be published in proceedings, which will be indexed by EI Compendex, Scopus, etc.

Option 2: Publication in Journal. Submissions will be reviewed by the conference committees and journal editorial board, and accepted papers will be published in the International Journal of Innovation, Management and Technology, which will be indexed by Google Scholar, Ulrich's Periodicals Directory, Crossref, ProQuest, etc.

If who're NOT looking to publish their papers, it's acceptable to submit your abstracts to the conference for oral presentation only without publication, which will be sent to at least two techinical committees for a brief review, and it will take about 10 working days.
Conference Tracks
Innovations: Technological Innovation, Product Innovation and Industrial Innovation Financing and commercializing innovation Human resource management issues in innovation Managing collaborative innovation
Knowledge Management:Knowledge Management Processes Data/information extraction and integration Management and Measurement of Intangibles Frequent itemsets and sequential pattern mining Mining and representing temporal and spatial data
Important Date
| | |
| --- | --- |
| Submission Deadline | Before February 20, 2019 |
| Acceptance Notification | Before March 15, 2019 |
| Registration Deadline | Before March 30, 2019 |
| Conference Dates | June 24-26, 2019 |
Latest News
July 2,2018!Good News!
ICIKM 2018 has been successfully held during June 25-27 in Bali, Indonesia (Check).
April 17,2018!Good News!
Prof. Mohsen Razzaghi will give a keynote speech entitled 'Mathematical Modeling and Management for Resources and Environmental Systems' at the ICIKM 2018 (Check).
March 5,2018!Good News!
The submission deadline has been extended to April 5, 2018. (Check).
December 22,2017!Good News!
Prof. Benny C. F. Cheung will give a keynote speech entitled 'Scenario-based Roadmapping for Strategic Planning and Innovation Management' at the conference. (Check).
Read More