Submission Method
Prospective authors are kindly invited to submit full text papers including results, tables, figures and references. Full text papers (.pdf, .doc) will be accepted via iConference submission system through the link : http://confsys.iconf.org/conference/icikm2019or directly by email icikm-sub@iacsitp.com.
Publication Ethics

We firmly believe that ethical conduct is the most essential virtual of any academic. Hence any act of plagiarism is a totally unacceptable academic misconduct and cannot be tolerated.
Publication Options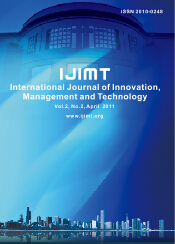 Option 1. Publication in Conference Proceedings. Submissions will be peer reviewed by conference committees, and accepted papers will be published in proceedings, which will be indexed by EI Compendex, Scopus, etc.
Option 2. Publication in Journal. Submissions will be reviewed by the conference committees and journal editorial board, and accepted papers will be published in the International Journal of Innovation, Management and Technology, which will be indexed by Google Scholar, Ulrich's Periodicals Directory, Crossref, ProQuest, etc.
If who're NOT looking to publish their papers, it's acceptable to submit your abstracts to the conference for oral presentation only without publication, which will be sent to at least two techinical committees for a brief review, and it will take about 10 working days.
Paper Formatting
Please follow the format when preparing your paper. Full papers submission should be with at least 4 pages.
For option 1, please use Paper Template (.doc). Each registration covers only 6 pages under this option. Extra page will be charged at 50 USD per page.
For option 2. please use IJIMT Template (.doc)
For Abstract submission, please use Abstract Template (.doc)